China's Vision Film acquires 'Sherlock Gnomes' from MGM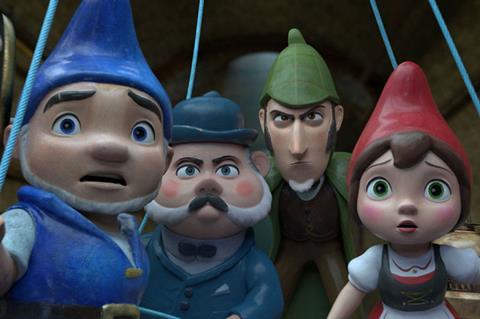 China's Vision Film Entertainment has acquired animated feature Sherlock Gnomes from Metro Goldwyn Mayer Pictures (MGM) and has scheduled a July 6 theatrical release for the film.
Directed by John Stevenson and written by Ben Zazove, the film is a sequel to Gnomeo And Juliet, which grossed nearly $200m worldwide. The voice cast includes James McAvoy, Emily Blunt, Chiwetel Ejiofor and Maggie Smith.
Headed by CEO Ricky Qi, Beijing-based Vision Film recently handled the Chinese release of Alex Garland sci-fi horror Annihilation, which grossed around $10m last month, and has also distributed films such as Malavita, Good People and Triple 9.
"We are very excited about working with MGM on Sherlock Gnomes, this great animation, as its Chinese distributor. We believe it will have a great performance in China," said Qi.
Backed by Paramount Animation and MGM, Sherlock Gnomes was produced by Steve Hamilton Shaw, David Furnish and Carolyn Soper with Elton John as executive producer. It was released in North America by Paramount on March 23 and grossed $42m.